It can be stressful and exhaustive for anyone to move around. The removal process can be a moment of stress and confusion, especially for kids. The news of removals can frustrate your kids, so they will need not only your best support, they even expect from you to respond to all their issues. All can be a fun and adventure for children is presented in a creative and playful manner. Here, our experienced removalists in Canberra have compiled a list of ways you can do with your kids to make their transition to a new house throughout cities like Banks, Holder, Torrens, Cook, and Belconnen, smooth and enjoyable.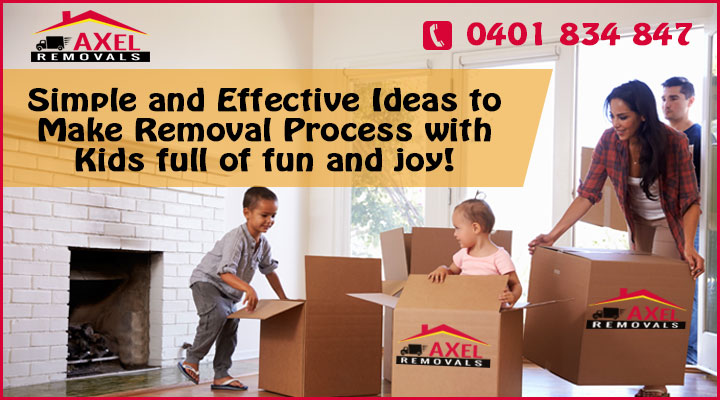 Packing with Fun
Even young children can help with packing certain things. You can create a simple, funny, and a famous song for your kids that they like to sing while packing. If your kids are grown up enough to create their own songs, let them do it as well. Hiding little surprises can be a good idea for children to discover while they're packed, i.e. like candies and stickers. Once the boxes are packed, young children can shut and decorate them with stickers and sharpies. While older children can take responsibility for labeling each box with colorful labels. You can even put aside some boxes to allow your kids to play indoors. Your kids will be busy creating a fort once all the toys are packed.
 Music on the Way
While removals Torrens service provider moves your valuables to your new house, don't forget to carry a list of popular songs to boost your kids' morale.
Moving with the Games
Simple games in the vehicle are a wonderful trick to spend the hours on the highway. It requires nothing except a pen and a piece of paper and the participation of your family while playing the games like Hangman, Tic-Tac-Toe, and The License Plate.
Unpacking with Fun
After your hired Removals Cook company has moved your house, don't be so fast to unpack and set up everything. You can instead pitch a tent in your new living room. Your kids will definitely love to enjoy such an indoor camping experience.
Let Your Kids Set Up their Rooms
You can take advantage of your kids who can help you unpack and organize everything in their new rooms. Set up your kids' own toys in place to encourage them to keep order in their room.
Be Open to Talk
As most of the kids do not want to move, so, they may feel frustrated. By engaging them in a communication process to clear their doubts, they will feel more enthusiastic about a move, and even more confident about the future.
Find New Opportunities
You need to think miles ahead in order to find new possibilities for children in the new place. Find the best hot spots in their interest. Offering your kids with the chance to continue their hobbies will allow them to adjust more quickly and easily.
Once the entire process of removals Belconnen from your hired Removalists Holder is over, you should be very careful to support the needs and wishes of your children for the first few weeks. Always encourage your children to make new friends and practice their hobbies. If there are any more ideas that come to your mind, don't hesitate to share with us! We'd like to hear you on a phone call or in the comments!