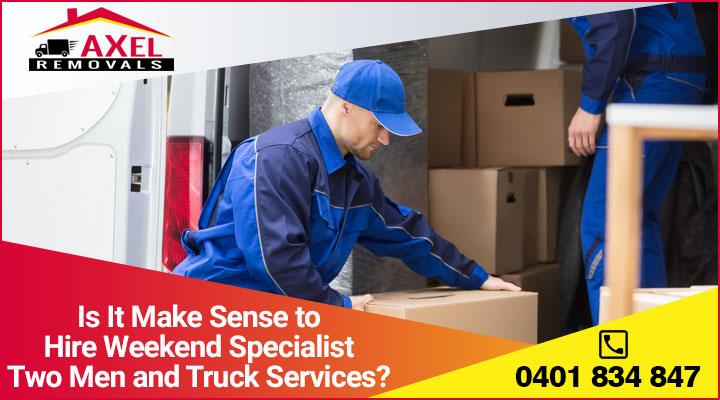 Moving locally within a city or across the states in Australia comes out as life's most stressful events. Especially, it could be challenging for people to relocate their big residential or business property to a long-distance in the country like Australia. Many businesses don't want to waste their time away from the office due to some basic reasons like;
Easy and faster relocation of belongings to travel on congestion-free routes.
No disruption of schedule for children's school.
Availability of extra support from friends or family members during transportation.
Citing the above reasons, it is crucial for you to hire a Weekend Specialist 'Man with a van' or 'Two Men and Truck' services from Axel Removals that can help you enjoy a smooth and stress-free move at the most affordable cost. Both of our specialized furniture removalists services are available anywhere in Brisbane, Canberra, Melbourne, and Perth that promise you best-in-class local and interstate moving services at the most reasonable prices.
Qualities of Weekend Specialist Removals Services
Men and Truck option is specially designed for big residential homes with 3-5 bedrooms and large commercial offices. Each of 8-ton truck load is specially designed for heavily furnished homes, large appliances, or large commercial goods and equipment. Our full-service local and interstate removalist services are equipped with the protection of blanket and shrink wrap along with assembly and disassembly of household furniture. So, if you are searching for the experienced and reliable removal specialists in Australia then look no further! Just contact at Axel removals, and avail exclusive list of benefits, such as;
Two Full-Service Moving Professionals.
One Well-equipped Truck with Ramp.
Timely Pickup & Drop at the destination.
Protection of blankets, shrink wrap, Dollies, tie-down straps, and Tools.
For more information and any query feel free to contact us on 03 8652 1576.