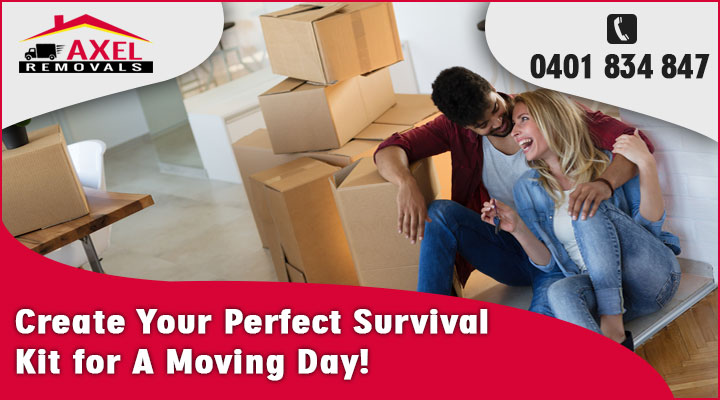 So, you have got the news to move to your house in Australia. Even it may find exciting for you and your family members, but you may be worried to think about plenty of tough challenges involved in overall removalist processes in Melbourne, Australia. Now you need not worry anymore as 'Axel Removals' is here to help you get through with all involved tough challenges and also let you quickly and easily settle and get back to your normal routine into your home.
So, leave all you big moving worries with us, pick one of our experienced and professional 'Man with a Van' and 'Two men and a truck' services in Australia. Our specialized furniture removalist services can help and support you to make your removalist process less troubling with the perfect survival kit to make sure you enjoy the stress-free move. Here, you can find various needful steps that you should follow for a comfortable and tension-free move.
Pack essential clothes and toiletries
Once you have packed all your household belongings and sealed the boxes, it could be quite rummaging to unpack and go through everything after reaching the new house. Especially, when you are moving a long distance move and need to settle quickly and comfortably in the new house, make sure you carry some essential commodities along with you such as comfortable change of clothes and toiletries. All such essentials will be helpful for you until you settle in the new house.
Kitchen items
You never know how much time it may take while moving and settle into your new home. So, don't forget to pack all the needful kitchen items in your survival kit that include Paper plates, Bottled water, Cutlery, and Food.
Essentials for Bedroom
A bedroom is an important area of the home. After a long journey of house removals, you must be very tired and need to take immediate rest in your bedroom. So, you should include all the needful bedroom belongings in your survival kit to prepare a comfortable bedroom as soon as possible.
The list of needful things you might need to consider packing for their easy access is Bed linen, Phone chargers, and Cleaning supplies, etc.
During the Move
Don't forget to take all other essentials along with you to make your journey free from any stress throughout every step on the way. Especially, if you are moving a long-distance then you need to pack some eatables or snacks in your survival kit to prevent starving and undue stoppages during the move to save plenty of time. If you have a family with young children then it is a good idea to carry something to entertain them, such as gadgets, iPad or other smart devices to get them engaged during the removalist processes in the major cities like Brisbane, Canberra, Melbourne, and Perth. or until all your setting into the new house is over. For young children pack all needful baby changing supplies along with sufficient spare clothes.
So, you can definitely reduce your moving stress through a proper planning and prepare a moving day survival kit packed with all needful things to accomplish your needs on the move and until final settlement in the new house. Axel Removals' is one of the leading furniture removalist in Australia having many years of professional experience in offering the perfect plans for removals to meet the specific moving needs of customers. For any query or booking just call us on 03 8652 1576 and get a quick response from our experts with a free quote.