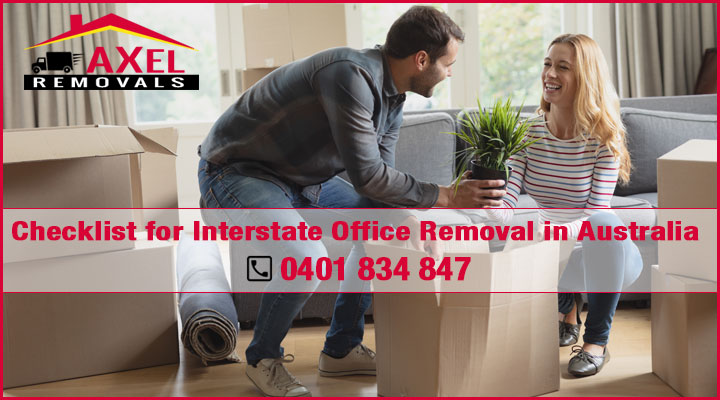 A small or a large office removal and relocation locally or across the states in Australia is never so easy and could be one of the most stressful experiences in life. Due to increased business profit and growth, many businesses go for shifting their offices to a new and bigger office space in a new city or state.
It is quite obvious that interstate removalist process is much more challenging than a local removalist process, and plenty of things should be considered for a quick and efficient interstate moving, right from the simple planning of removal process to the final set up in the new office location.
So, it is better to plan ahead before starting your interstate office removal process just to ensure that everything will go right. Here, we have put together an interstate moving checklist that you should follow to provide efficient furniture removalist services to the customers across the states in Australia including Adelaide and Melbourne:
4 to 6 months before moving
Construct a timeline for all relocation tasks
Create a moving committee to keep an eye on all the removalist processes and make sure everything functions perfectly well throughout the moving process. Also, assign a moving coordinator who will function as the primary liaison between the removalists and contractors.
Take technical or special advice from the IT department and coordinate with your building manager.
Decide on your moving budget
Pick out a suitable moving day
Outline and instruct all employees about the new office setup and floor plan.
Develop a color-coded floor plan to help and guide your removalist.
Select the items that need to be dismantled before relocation.
Get needful permits, new phone numbers and fax numbers for the office set-up in the new location.
2 to 4 months before the move
Hire a professional furniture removalist service.
Depute a professional cleaning service.
Get an internet connection at the new office.
Setup telephone lines for the new office.
Declutter all unnecessary documents
Purchase new furniture and other needful items for your new office
1 or 2 months before moving
Inform all your customers, business investors, vendors, affiliates, and delivery services about your new office address.
Let your office employees know about which space is assigned to them at the new office.
Install a suitable security and alarm system along with a CCTV.
Get keys and access cards ready for the new office.
Cancel or change the billing and delivery address for the utility services
1 month until the moving day
Take an inventory on office furniture and equipment.
Arrange packing supplies for the move
Extra belongings that won't be moved should be kept in the storage facilities.
Establish new utility connections and systems furniture at your new site
Inform the post office about your new office location.
Purchase newly updated stationery.
A Week Before the moving day
Pack up all needful items
Map out the new office area.
Hand out new keys and keycards
Label all boxes as per their respective locations
Take the backup of all the data on the computer
Give instruction to all employees to pack their belongings
Confirm the availability of all services hired on a moving day.
Empty all filing cabinets and have everything packed and prepared for the removalist in Adelaide
On the Moving Day
Inform the moving committee remain available at their delegated site all the times.
Avoid gathering of too many employees in the old as well as new office sites.
Distribute floor plans to the removalist in Melbourne and also provide them needful instruction on where things should be placed
Tape or Hang up coded signs and arrows to the walls to help and guide your movers about new routes through the new office
Update your business profiles, websites, stationery, and other materials with a new business address.
Axel removals is experienced and established Furniture removalist company since past many years offering smooth and convenient residential as well as commercial interstate removalist in Australia at the most reasonable prices. Our skilled and dedicated team of removals and moving professionals provide end to end services to all the customers including furniture removal, packing, unpacking, cleaning, insurance, and lots more!
If you want to discuss your next interstate move just visit our nearest branch or call at 03 8652 1576.